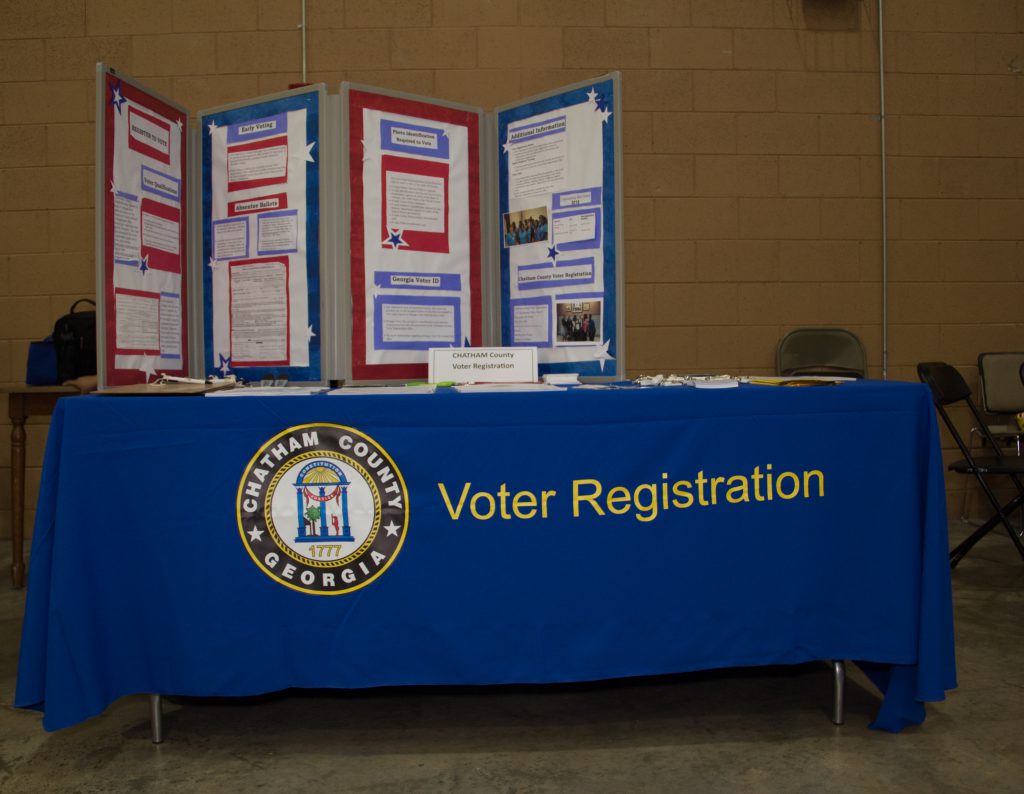 Voting in local, state and federal elections as a vital part of advocacy.
Advocacy continues to be an integral part of LIFE's programs and services. The ultimate goal of all advocacy efforts is to create an integrated society that is barrier free.
Do you have an issue, idea or solution you would like to share with your state and federal elected officials, but you're not sure who they are or how to contact them? Find out who represents you by following the blue link below, which will take you to the State of Georgia website.
At the top of the home page, you can find links to state and federal officials, where you will find their names, the districts they represent, their party affiliation and the city in which they are based.
Americans with Disabilities Act (ADA) coordinators by county
In addition to state and federal elected officials, nearly every county in Georgia has a person or department that is in charge of making sure that public facilities are accessible by all. If you need information, feel free to contact the people below in your county.
Appling County
Al Meadows, County Manager
manager@applingco.com
69 Tippins St., Suite 201
Baxley, GA 31513
912-67-8100
Bacon County
No designed ADA coordinator
marylee@baconcounty.org
502 W. 12th St., Suite 200
Alma, GA 31510

Brantley County
Lynn Daniels, Human Resources and Safety Coordinator
HR@brantleycounty-ga.gov
33 Allen Road
Nahunta, GA 31553
912-416-462-2428
Bryan County
Kirk Croasmun, PE, Director of Engineering
kcroasmun@bryan-county.org
912-756-7953
Bulloch County
Sterling Starling
sstarling@bullochcounty.net
115 North Main St.
Statesboro, GA 30458
912-489-1356
Camden County
Mike Spears
mspears@co.camden.ga.us
200 East 4th St.
Woodbine, GA 31569
912-576-7058
Candler County
Melvin Ivey, Sheriff's Deputy
Mivey@candlercco-ga.gov
Cody Laughton, Sheriff's Deputy
Claughton@candlerco-ga.gov
1015 E. Hiawatha St.
Metter, GA 30439
912-685-2568
Charlton County
Hampton Raulerson, County Administrator
hraulerson@charltoncountyga.gov
68 Kingsland Drive, Suite B
Folkston, GA 31537
912-496-2549
Chatham County
Ben Lewis, Compliance and Accessibility Coordinator
Occupational Safety, Risk Management, and Disability Services
Belewis@chathamco.org
You may report an issue via the website at:
https://chathamcountyga.qscend.com/311/request/add
P.O. Box 8161
124 Bull St., Suite 150
Savannah, GA 31401
912-652-7937
Effingham County
Liz Sapp, Fire Inspector
Lsapp@effinghamcounty.org
804 S. Laurel St.
Springfield, GA 31329

Evans County
Leah Edwards, County Clerk
countyclerk@evanscounty.org
613 W. Main St.h
Claxton, GA 30417
912-739-1141, main switchboard.
When prompted, choose Board of
County Commissioners, then County Clerk
Glynn County
David Strickland, Project Manager/ADA Facilities Coordinator
dstrickland@glynncounty-ga.gov
1725 Reynolds St.
Brunswick, GA 31520
912-554-4141
Liberty County
Joseph Mosley, Assistant County Administrator
Joseph.mosly@libertycountyga.com
112 North Main St.
Hinesville, GA 31313
912-876-2221
Long County
Eric Petoff, Chief Building Inspector and Code Enforcement
epetoff@longcountyga.gov
75 W. Academy St.
Ludowici, GA 31316
McIntosh County
Patrick Zoucks, County Manager
sherrel.davis@mcintoshcounty-ga.gov
1200 North Way
Darien, GA 31305
912-437-6671
Pierce County
Chris Bond, Code Inspector
code.inspector@piercecountyga.gov
312 Nichols St.
Blackshear, GA 31516
912-440-2037
Tattnal County
Not available
Toombs County
Helen Harris
hharris@toombsco@gmail.com
P.O. Box 112
Lyons, GA 30436
Ware County
Spencer Baxley, Media Coordinator
sbaxley@warecounty.com
305 Oak St.
Waycross, GA 31501
Wayne County
Paul Drawdy, County Administrator
pdrawdy@waynecountyga.us
341 E. Walnut
Jesup, GA 31546
Note: For county buildings only