News, events, resources, and more for our Screven, Ga location.
SERVICES
Service Information
NEWS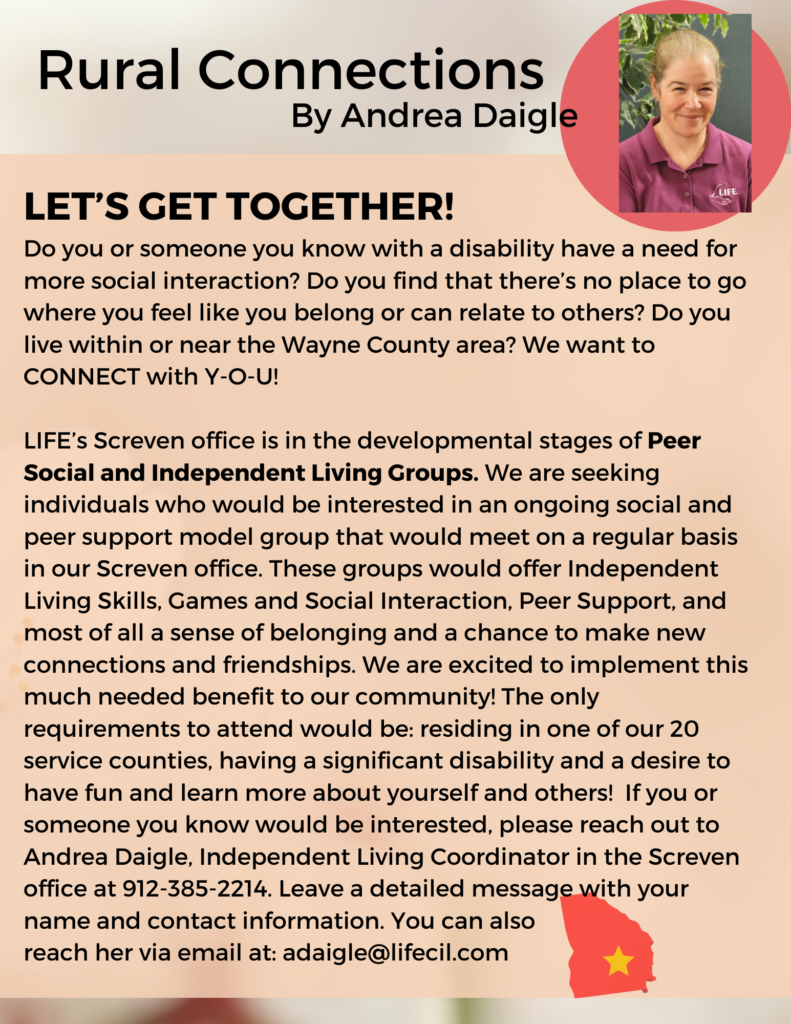 EVENTS
Week of Mar 27th
Mon

Monday

Tue

Tuesday

Wed

Wednesday

Thu

Thursday

Fri

Friday

Sat

Saturday

Sun

Sunday

1:00 pm: LIFE Social Club: Promoting Fun & Friendship!

JOIN US FOR SOME FUN AT LIFE's online SOCIAL CLUB MEETING * Wednesday - January 25th at 1:00. Please check back for location details as this might be an in-person event. Open to all people with disabilities in LIFE's service counties.

10:00 am: POSTPONED: Picnic for Prevention and Community Resource Fair April 1 - Statesboro

Due to inclement weather, this has been postponed. The new date is August 19th.
LIFE will have a resource table at the Picnic for Prevention and Community Resource Fair at Luetta Moore Park at 585 Martin Luther King, Jr. Drive in Statesboro. There will be over 32 community vendors/resources, as well as food, drinks, door prizes, a live radio broadcast, networking and fellowship. Bring your picnic blanket and join in the fun!
Please contact Angel Denardi at adenardi@lifecil.com or 912-920-2414 with questions.
SUCCESS STORIES
SCREVEN RESOURCES
GALLERY